by Andrea
I say that this is my lunchbox collection, but this is really my husband's pet collection – these are pretty much all his.  Let's take a look!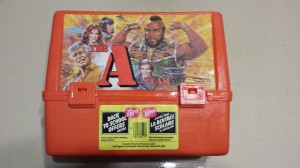 We picked up this A-Team one a few years back at a garage sale because really, who doesn't like the A-Team?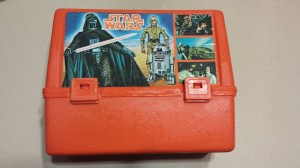 This Star Wars one is identical to the one that my hubby used to take his lunch in kindergarten many years ago!  I think he'd like our daughter to use it when she starts school, but she's super girly and might not be easily sold on that idea …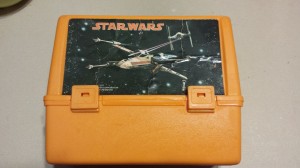 This Star Wars one is super cool as well – I actually used to use it to take my lunch to an office job I worked at a few years back.  After all, you're never too old for Star Wars!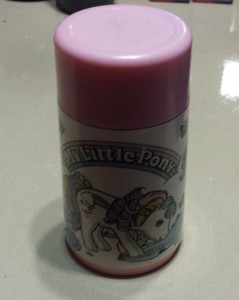 This My Little Pony Thermos is my contribution to the collection.  I would love to find a matching lunchbox for it.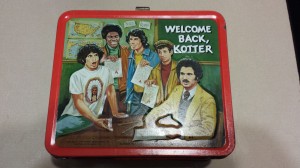 Now we come to the pride and joy of my hubby's collection.  He bought this one off of eBay several years ago, it's circa approx 1980.  I cannot say I share his love for Mr. Kotter, but it is a pretty sweet lunchbox …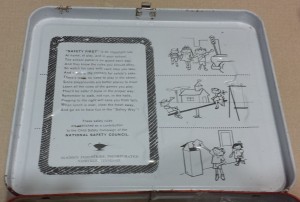 On the inside lid it has a public service safety announcement.  I guess it's always good to remind kids to be safe?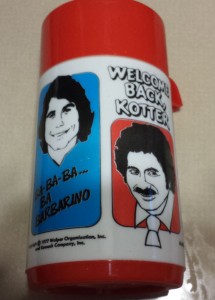 It is also complete with Thermos!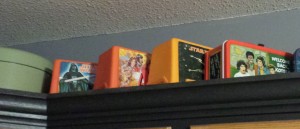 Here's our collection on display!
Do any of you readers collect lunchboxes?  I'd love to hear which ones you have in your collection!